Kihikihi School Home Learning Experiences
Tōkū Kāinga - My Backyard
Kura Auraki - English Medium Kura Rūmaki - Māori Medium
At Kihikihi School we have developed our home learning experiences to support families through the current global pandemic crisis. These learning experiences are linked to Ralph Pirozzo's Matrix of learning which cross connects Gardiner's multiple intelligences and Bloom's thinking levels. For more information about Koro Ralph Pirozzo search for https://www.pli.com.au/ .
The home learning experiences are intended to support the ongoing educational success of your child/ren and to provide a fun-filled, tension-free range of activities that the entire family can participate in.
Below is an example of the page you will see in the designated folders>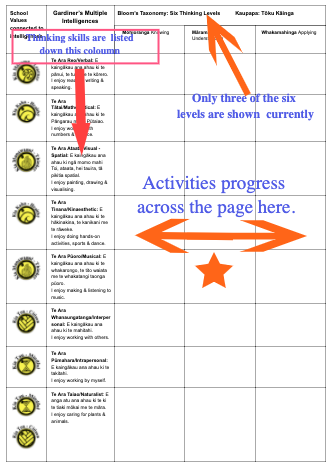 We plan to keep adding to these ideas so that our students can build on their existing learning experiences over a set period of time.
Please note: These activities are purely optional.
Any work you do that you would like to share with your teacher, please email it.
Here is the list below: