Learning at home for our students....
We are responding accordingly with a plan to enable home learning, taking into account our school's unique kaupapa and values for the pending start of term 2, 2020. The start date of term 2 has been moved to Wednesday 15th April. We are still within Level 4 of the Covid-19 Lockdown so all learning will be done through distance learning options until further notice.
Consistent with the most current Ministry of Education guidance we have carefully considered the possibilities of learning at home during this international health crisis. We are aware that everyone may not have access to the same materials to support learning at home. This may be limited internet access or no access to a device, and stationery supplies may be limited.
We strongly agree that nurturing social and emotional well-being must be focused on during these uncertain and challenging times. We know that happy kids who have their most basic needs met are more capable and prepared for a learning experience that has positive outcomes overall.
Strong relationships encourage successful learning and teaching, we look forward to using this opportunity to help families nurture productive and supportive relationships in the home. Set challenges that are fun and engaging; that involve parents where appropriate.
Our aim is to make this achievable and realistic for everyone to cope during these extreme times.
So what does this mean for us?
What we know and understand is that learning in the classroom looks very different to the way that learning at home looks. To expect teaching and learning to be duplicated at home is the wrong approach. Learning at home should and must be different to the learning that is done in a classroom setting.
For most, the focus must remain on the emotional and psychological well being of everyone at this time, so putting extra pressures on parents to suddenly become their child's class teacher is unrealistic and unachievable.
We do however believe that you are your child's first educator and have a lot that you can offer your child when it comes to learning experiences in general.
There are many variables to everyone's situation which we are unable to overcome right now but will work hard to provide everyone with opportunities that will allow a wide range of learning to take place should you choose to engage with us.
Our plan
To provide whanau with a range of possible learning experiences that link directly to our local school curriculum, school values and are achievable as well as manageable for all to choose from.
These will be accessed through our school website and will include links that can be supported with digital technology should you have access to this.
Technology will not be the sole provider for learning because we believe that technology should only be used to support learning as a tool. Hard copy packs will also be made available upon request from the Ministry of Education to help those who want this as an option.
The focus is about providing your child with experiences not just academic but social, emotional and deep levels of thinking skills. These experiences will help provide a platform for more academic learning to continue once schools can return to formal instruction.
What are our School Values and Local Curriculum theme?
Our local curriculum learning has focused on the theme "Tō tātau kainga - Our backyard". This is a perfect opportunity for us all to focus directly on each families 'backyard' with a sense of how learning can be encouraged at home.
Our school values are: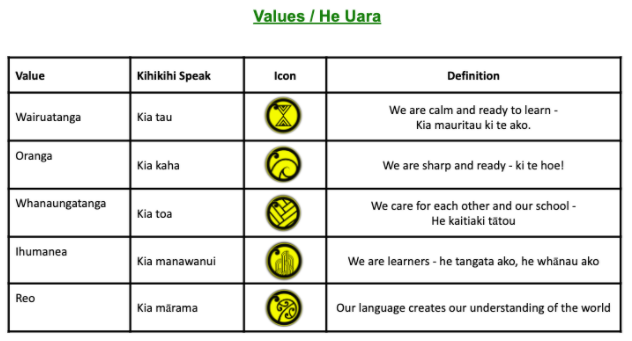 Our concept for learning at home will be separated into two areas;
1) Auraki - English Medium Learning
2) Rūmaki - Maori Medium Learning.
On this website you will find folders within the area of home learning where access to these opportunities will be made available. Updates will be provided as we go given the uncertainty of time we are expected to be providing home learning opportunities.